Paper on challenges of ECHR delivered to UCC conference
3 July 2007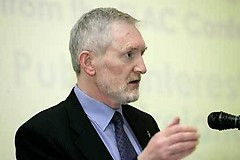 FLAC Senior Solicitor Michael Farrell delivered a paper on the 'The challenge of the ECHR' at the second annual conference of the Centre for Criminal Justice and Human Rights in University College Cork on Friday 29 June 2007. The theme of the event was 'Rebalancing Criminal Justice in Ireland: A Question of Rights'.
The paper compared the relatively low take-up of the European Convention on Human Rights here since the passing of the ECHR Act 2003 with the much more dynamic effect of the Human Rights Act 1998 in the UK, including the use of declarations of incompatibility with theECHR.
It also looked at the possible effect of the ECHR on the restrictions on the right to silence in the new Criminal Justice Act 2007.
To learn more, you can download the paper and also the appendix document on UK Declarations of Incompatibility which accompanies it. See also our section on Public Interest Law for more information on FLAC's work in the area.