Civil legal aid system inadequate, affirms FLAC report
1 January 2006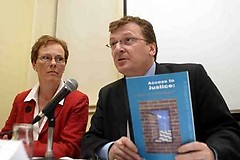 FLAC's most recent report on civil legal aid details gaps in the current system and shows how even those on extremely low incomes are being excluded from legal aid.
The report is a comprehensive analysis of the workings and the shortcomings of our present system of civil legal aid. It proposes changes to the system and discusses alternative approaches. These recommendations are then summarised in a blueprint at the end of the report.
Points covered in the book include the following:
The right to civil legal aid in Irish and international law
The scope of civil legal aid provision in Ireland
Eligibility for legal aid - the merits and the means
How civil legal aid is delivered in this jurisdiction and alternative models
A Blueprint for civil legal aid in Ireland in the 21st century
Please contact the FLAC office if you want a copy of this report or download a copy of the legal aid report in PDF format (You will need Adobe Acrobat Reader to open this file).
For coverage of the launch of the report in July 2005, see our past events section.