National Volunteer Week 2023
20 May 2023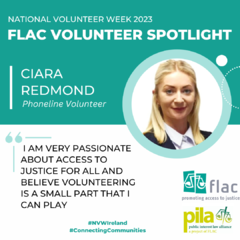 This year's National Volunteering Week theme is '#ConnectingCommunities' We begin #NVWIreland by spotlighting one of FLAC's Telephone Information Line Volunteers. Ciara Redmond first began volunteering in 2017 as a trainee solicitor.

"I am very passionate about access to justice for all and believe Volunteering is a small part that I can play."
Our next #FLACVolunteer spotlight for #NVWIreland is Cara Jane Walsh. Cara has been volunteering in our Legal Advice Clinics since Feb 2020.
" I love ending a phone call knowing I have empowered someone to take the next steps with their legal issue" 

"Without FLAC, members of the community may not be able to connect to a Barrister for legal advice & support with their issues. I appreciate the power of this with every call I conduct... I would encourage others in the legal community to volunteer their time and expertise"
PILA Volunteer Spotlight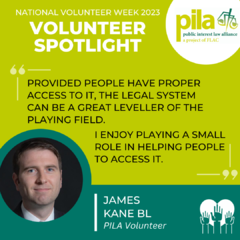 "Provided people have proper access to it, the legal system can be a great leveller of the playing field. I enjoy playing a small role in helping people to access it... It's a wonderful privilege having the skills to advise people in relation to their rights and to represent people in Court." - James Kane BL
FLAC Council
A big thank you to our FLAC Council this #NVW2023. They work quietly behind the scenes, giving their time, expertise and experience to provide invaluable support, guidance and strategic direction.  #ConnectingCommunities