Support the FLAC Summer Raffle!
19 August 2021
During the Covid pandemic, each of our lives were impacted by barriers, restrictions and uncertainty. Throughout these difficult times, FLAC has continued to work for those who are seeking to access justice, including some of the most marginalised people in our society, for whom poverty and discrimination are the norm.
By supporting this raffle, you will be supporting FLAC to provide free legal services, to many people who would not otherwise have the means to access legal information, advice or representation.
Throughout 2020, over 12,000 people contacted the FLAC Telephone Information Line and over 4,800 attended a Free Legal Advice Clinic. With your support, we will be able to help more people like Jo, for example, who contacted FLAC to say her marriage is breaking down and she doesn't know what her legal entitlements are, or Cathal who called to say he was laid off during Covid and has just been told his job no longer exists.
FLAC's legal team continues to represent people experiencing poverty and disadvantage.
FLAC recently successfully represented a homeless Roma family who were unable to access social housing supports. We also acted for a Traveller family including three young children, who were subject to eviction proceedings and who were refused access to emergency accommodation.
The real power of your kindness and generosity is that it enables those without means to have a voice and some agency in their own lives at a time when they are at their most vulnerable.
If you would like to support the FLAC Summer Raffle by buying tickets please click here.
The closing date for this year's draw is October 8th 2021
Thank you so much for your generous support.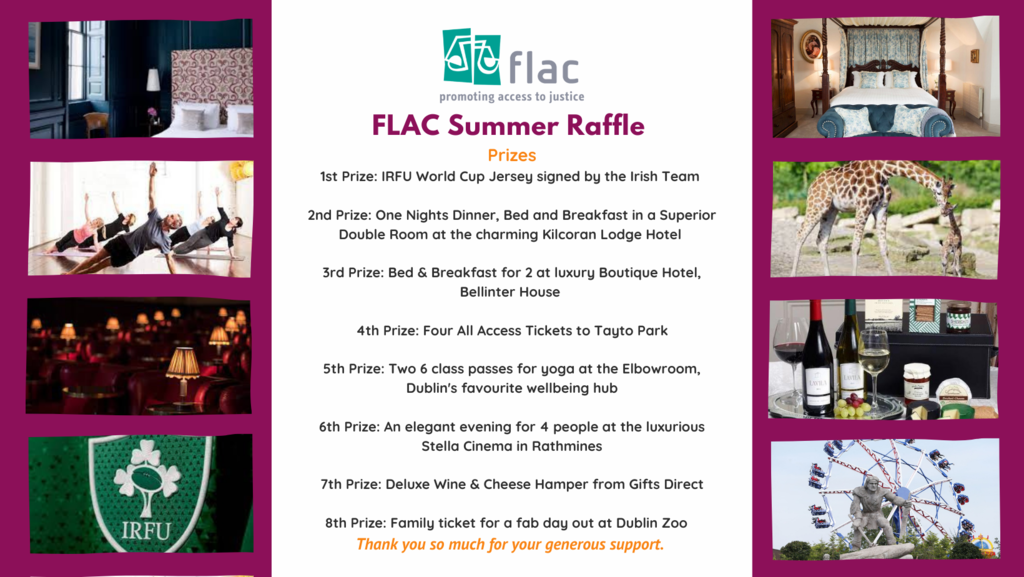 Check out our amazing raffle prizes, many of which are fun experiences that we all need of after lockdown:
1st Prize: IRFU World Cup Jersey signed by the Irish Team

2nd Prize: One Nights Dinner, Bed and Breakfast in a Superior Double Room at the charming Kilcoran Lodge Hotel

3rd Prize: Bed & Breakfast for 2 at luxury Boutique Hotel, Bellinter House

4th Prize: Four All Access Tickets to Tayto Park

5th Prize: Two 6 class passes for yoga at the Elbowroom, Dublin's favourite wellbeing hub

6th Prize: An elegant evening for 4 people at the luxurious Stella Cinema in Rathmines

7th Prize: Deluxe Wine & Cheese Hamper from Gifts Direct

8th Prize: Family ticket for a fab day out at Dublin Zoo
Other ways to support the work of FLAC
You can also make a donation to FLAC at https://www.flac.ie/donate/
Thank you to our wonderful sponsors IRFU, Kilcoran Lodge Hotel, Bellinter House, Tayto Park, The Elbowroom, Stella Cinema Rathmines, Gifts Direct and Dublin Zoo.
*This raffle is being run in accordance with Section 26A of the Gaming and Lotteries (Amendment) Act 2019.