Meet The Volunteer - Lizzy
24 September 2020
I'm 30 years old from Cabinteely. I have lived in Ireland my whole life. I'm half Irish (Mum is from Mayo) , half Ghanaian (Dad is from Ghana). I studied law at UCD. After that did a traineeship in a commercial law firm.
Then, I opted for a career change, I wanted to do something a bit more creative professionally so I took a course in tv and film production. I now work with an advertising agency in Dublin. I don't work in a legal role in the company so Flac is a way for me to keep my legal training and experience alive and to help people. Even by doing a voluntry clinic once a month, it allows me to keep that part of my brain working.
I really love the Flac Clinics. I come home from them really tired but with a great buzz or a great energy. I know it sounds cheesy but I would often wonder about the people I advised, what happened to them, how they got on.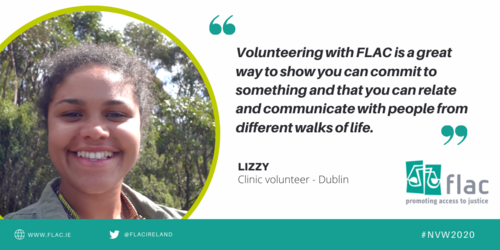 Volunteering with Flac gives me more confidence. It's also a great way to show how you can commit to something and it shows that you can relate and communicate with a lot of different people from different walks of life. It's also good to  have volunteering on your cv. It helped me in my change of job. People don't always think of how you might use your professional skillset and training in a voluntary role.
The number one reason I volunteer though is that it is nice to help people. In many areas of law you might not feel like you are helping people and human rights law isn't always accessible and it is very competitive so volunteering with Flac is an opportunity to help people in a very hands-on way.
Lizzy, Dublin FLAC Clinic.