Meet The Volunteer - Bolanle
21 September 2020
"My name is Bolanle but you can call me Bola. I live in Dublin City. I am a Solicitor in Ireland specialising in immigration law, and currently working in corporate immigration for over 3 years. I came to Ireland over 15 years ago to study for my Master's degree in law at Trinity College. I love to explore Ireland and can proudly say I have visited all 26 counties in the Republic - Malin Head in Donegal is fascinating! 
I have been volunteering once a month at the FLAC Immigration Clinic at O'Connell St. since 2018. FLAC has a good calendar system that fits well into my tight work schedule, and I always look forward to attending the clinic to meet people from diverse cultures and offer my expert advice to them. Giving my time freely is a great opportunity to give back to the community.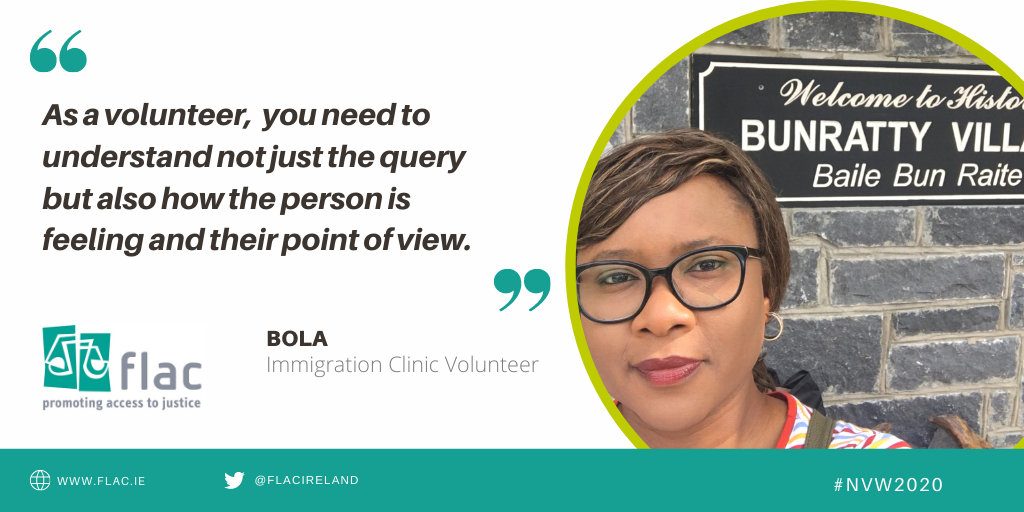 For me personally, I am able to empathise with them having moved here. I am in a position to provide guidance and clarity regarding the Irish immigration system, and also try to put their mind at ease. The confidentiality of the clinic reassures the people who come, and it is seen as a place of hope where they can get answers to their immigration queries.
You need to understand not just the query that they have but also how they are feeling and their point of view. I pay attention to what they tell me and put forward the steps they need to take to make matters better for them. I am delighted to be part of the FLAC volunteer network, supporting the service users in the best possible way."
 Bolanle, Immigration Clinic, Dublin.