FLAC holds Pop-up LGBTQ Legal Advice Clinic for Pride Week
20 June 2018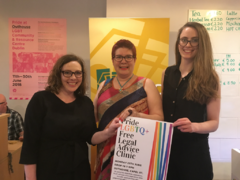 As part of the 2018 Pride celebrations, FLAC hosted a Free Legal Advice Clinic specifically for the LGBTQ community on Monday 25th June. 
The clinic took place at Outhouse's offices in Capel Street. Outhouse is a community and resource centre for LGBT people, their families and friends.
The purpose of the clinic was to enable people to ask a question on any area of law and receive basic legal advice from a volunteer lawyer.
We suggested that people visiting brought any documentation or correspondence which might help the lawyer to assist them. The volunteer lawyers on the night helped establish whether there was a legal aspect to any of the problems presented, explained what options were available and directed people to where they could obtain further assistance where appropriate.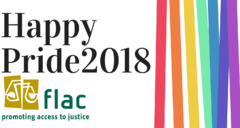 FLAC identified the need to host a free legal advice clinic in a confidential environment for members of the lesbian, gay, bisexual and transgender community when seeking free legal advice. 
FLAC has found that there are often particularly legal matters which are especially relevant to LBGTQ people. Subsequently, people can feel more comfortable discussing these legal issues in a safe, queer-positive, non-judgemental and inclusive space specifically for the LBGTQ community.