FLAC holds Pop-up LGBTQ Legal Advice Clinic for Pride Week
20 June 2018
As part of the 2018 Pride celebrations, FLAC hosted a Free Legal Advice Clinic specifically for the LGBTQ community on Monday 25th June. 
FLAC CEO Eilis Barry said;
"FLAC is delighted to have hosted a free legal advice clinic in a safe, queer-positive, non-judgemental and inclusive space for the LBGTQ community. We were also extremely happy to liaise with Outhouse where we staged the clinic.
"FLAC is a human rights organisation that promotes equal access to justice for all and our vision is one where all people have access to legal protections regardless of their sexuality or gender.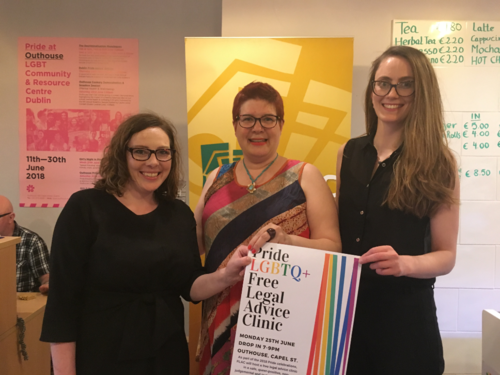 "The purpose of the this clinic, was to enable people to ask a question on any area of law and receive basic legal advice from a volunteer lawyer. We suggested that people visiting brought any documentation or correspondence which might help the lawyer to assist them. The volunteer lawyers on the night helped establish whether there was a legal aspect to any of the problems presented, explained what options were available and directed people to where they could obtain further assistance where appropriate.
"We are committed to offering both a welcoming and confidential environment for members of the lesbian, gay, bisexual and transgender community when seeking free legal advice."