FLAC hosts pop-up disability clinic for Carers Week
11 June 2018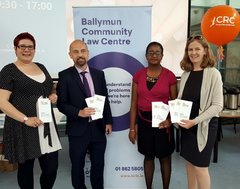 As part of Carers Week 2018, FLAC teamed up with the Central Remedial Clinic (CRC) in Dublin to deliver a pop-up legal advice clinic. 
The CRC works to make a positive difference to the lives of people with disabilities, their families, and carers.
As part of CRC's initiative to encourage and support their service users to try to use existing services in their local communities, FLAC gave a presentation at the CRC outlining relevant FLAC services such as the information line and our advice clinics which which might be useful to them.
FLAC volunteer legal advisor Gary Lee who is Acting Managing Solicitor in the Ballymun Community Law Centre also delivered a presentation on disability rights and the law.
Gary then provided a pop-up legal advice clinic for attendees where he was able to see clients individually and provide more personalised and specific legal advice relating to disability and carers' issues. 
All of FLAC's advice clinics located in Citizens Information Centres and wheelchair friendly and FLAC staff at the event stressed that our clinics are available and accessible to all.