First use of tactile voting: "I'd been looking forward to this moment for years"
24 May 2018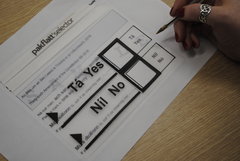 The recent constitutional referendum on the Eight Amendment to the Constitution was the first opportunity for people with a visual impairment to cast their vote in secret using a new tactile voting template.
In previous votes, people with sight loss had to vote with the assistance of a 'trusted friend' or get help from the presiding officer in order to exercise their franchise. This meant that their privacy was compromised and that they were denied a secret ballot, an essential feature of a democratic vote.
Last year, Wexford man Robbie Sinnott, who is visually impaired, won a landmark High Court case which found that the Minister for Planning and Local Government had a duty to provide arrangements to guarantee a secret ballot as far as is reasonably practicable. The Minister subsequently made the arrangements for the referendum. 
Speaking about what this development meant to him Robbie (pictured left) said;
For the first time, I no longer had to rely on a friend or the presiding officer to mark the ballot paper on my behalf. The former system denied me the right to cast a secret ballot as I had no way of verifying that the person assisting me has marked the ballot paper in the way I had requested.
So using the tactile voting ballot in the recent referendum was a huge moment for me and for people who are blind or vision impaired. I'd been looking forward to for years. Previously, when voting I had to compromise my privacy which was never acceptable to me. I have a constitutional right to vote in secret and just because I'm visually impaired shouldn't alter this.
For the first time in my life, I no longer felt that my entitlement to vote was lesser than somebody else's who just happens to be able to see."
This case also shows how the law can be used to fight injustice and exclusion for disadvantaged groups in society. Every day, people from marginalised groups must overcome serious obstacles to access even our basic rights. However, with the right guidance, you can use the legal system to ensure that you enjoy the same fundamental rights as everyone else."
A tactile voting device, or tactile ballot template is placed over the ballot paper and includes Braille and embossed numbers, with a cut out square over the slot where the ballot is marked. The device is removed from the ballot paper, which is folded and placed in the ballot box.
Free Legal Advice Centre (FLAC) through its Public Interest Law Alliance (PILA) facilitated getting legal support for Mr Sinnott. Eversheds Sutherland Solicitors represented Mr Sinnott during a nine day hearing which spanned several months and throughout the three year legal battle.
FLAC CEO, Eilis Barry said;
"FLAC through PILA was delighted to support Robbie during the case. We have now seen the impact of this important judgment as members of the blind and visually impaired community were able to fully exercise their constitutional right to vote in secret, which is a fundamental part of democracy.
However there are currently no equivalent measures in place for elections where candidates are selected by proportional representations.
With a general election likely this year and local and European elections scheduled for next year, we're urging the Minister to put these arrangements in place as a priority. There are currently over 50,000 people with sight loss in Ireland. Templates are currently in use in Austria, Germany and the UK and have the advantage of being cost effective and low tech."