FLAC's condolences on the passing of our volunteer
26 April 2018
FLAC would like to express our condolences to the family and friends of our volunteer, Anna Considine, who passed away on the 13 April 2018 after a long illness.
Anna lived in Tuam, Co Galway and was a volunteer assistant for over 5 years in both the Dublin city Sean McDermott Street FLAC clinic and the Galway FLAC clinic. She was awarded the FLAC Volunteer Golden Pin for Long Standing and Committed Volunteer Service in 2014
She took part in FLAC's New Opportunities for Women in Law Programme and was a great advocate for social justice. She took on studying law later in life after retiring and gained a BA in legal science, an LLB and an LLM in NUI Galway. She was committed to the use of law to promote access to justice.
FLAC's Volunteer Development Manager, Zsé Varga said,
"We loved having Anna volunteer with us and we were very sad to hear of Anna's passing. Anna always kept a warm and positive look out on things, her weekly upbeat and poetic emails brightened up our days and we will miss her dearly".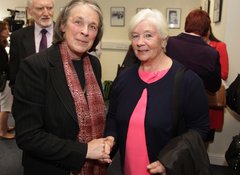 Former Chief Justice Susan Denham with Anna Considine at FLAC's Annual Report Launch in 2014