Volunteer survey 2015 launched
3 December 2015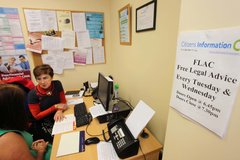 FLAC has launched its first online Volunteer Survey. 
We would like to better understand the needs and experience of volunteers in the legal advice centres, and so we are asking all volunteers in Free Legal Advice Centres countrywide to please take the time to participate.
Completing the FLAC Volunteer Survey should take no longer than 10 minutes - it's online and mobile-friendly.
We are looking forward to hearing from you!