Oireachtas Committee hears findings from public interest law seminar series
25 November 2015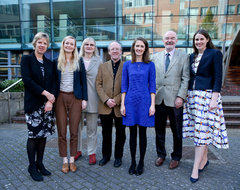 The Oireachtas Committee on Justice, Defence & Equality today heard findings from a unique series of seminars examining the connections between legal action and social change in Ireland, including the impact of public interest law and litigation and the attendant need for reforms to facilitate greater access to justice.
The "Changing Ireland, Changing Law" series was organised by Dr Mary Rogan, Head of Law at Dublin Institute of Technology and Professor Ivana Bacik of Trinity College Dublin in partnership with the Public Interest Law Alliance, a project of FLAC. Dr Rogan and Professor Bacik addressed the Justice Committee along with Rachel Power of PILA on the series findings, following a presentation in the AV room of the Oireachtas for other members.
The series saw innovative input on how law has affected Irish society, showcasing public interest campaigns on women's rights, LGBT rights, immigration and asylum and public interest litigation. This included many of the individual litigants who took landmark cases in their own right to advance wider change, such as Dr Lydia Foy on Transgender recognition and Mairin de Burca on women's rights, as well as lawyers, academics and civil society or­ganisations such as the National Women's Council, the Gay & Lesbian Equality Network and the Immi­grant Council of Ireland.
General themes emerging from the series indicate general barriers for people seeking to access justice in Ireland:
High legal costs and lack of legal supports for ordinary people to navigate a complex and expensive process are a distinct chill factor for people seeking vindicate their rights and/or to take cases in the public interest - generally without state legal aid. 
The personal impact on individuals who take such public interest cases is considerable and often very damaging.
State bodies and systems can often be non-transparent and complex, such that people need considerable help to access them. 
People are also negatively affected by delays endemic in both the legal system and state systems generally.
At today's briefing, PILA's Rachel Power outlined key barriers to public interest litigation identified through the series and made the following recommendations:
The review period mandated within the Legal Services Regulation Bill should be used to assess whether the new legislation is facilitating access to justice through speedy and efficient administration of justice and, if not, resources should be applied to identifying current inefficiencies.
 The state must ensure effective and timely implementation of judgments to prevent excessive delay in protecting, promoting and defending the rights of its people.
 The courts must be specifically authorised to take into account the public interest nature of a case and legislative provision made for the granting of Protective Costs Orders in public interest law cases.
 The legal aid scheme should be extended to allow for the taking or funding of test cases, which can be contracted out to private law firms or independent law centres.
The project will produce an edited collection of contributions from former litigants, lawyers, NGOs and academics for publication in 2016.
/ENDS                                                                
Editors' notes:
The 'Changing Ireland, Changing Law' presentation today is in the AV Room at 3pm and the briefing is at 4pm in Committee Room 2.
FLAC (Free Legal Advice Centres) is a human rights organisation which exists to promote equal access to justice for all. FLAC is an NGO that relies on a combination of statutory funding, contributions from the legal professions and donations from individuals and grant-making foundations to support its work.
FLAC offers basic legal information through its telephone information line (1890 350 250) and free legal advice through its network of 80 volunteer evening advice centres – more at www.flac.ie/help/.  It also campaigns on a range of issues including consumer credit, personal debt, fairness in social welfare law, public interest law and civil legal aid. FLAC has issued numerous analyses and policy statements calling for a fairer mortgage arrears resolution process.
The 'Changing Ireland, Changing Law' series is organised by Dr Mary Rogan, Head of Law at Dublin Institute of Technology, and Professor Ivana Bacik, Trinity College Dublin, in partnership with the Public Interest Law Alliance. It is funded by the Irish Research Council and seeks to examine the connections between law and social change in Ireland. Its seminars have explored the connections between women's rights, LGBT rights, immigration and asylum and social change in Ireland, as well as the social impact of public interest litigation and barriers people experience in accessing justice. A briefing for the Committee prepared by Dr Rogan and Prof Bacik is available online.
Part of FLAC,  the Public Interest Law Alliance (PILA ) is a public interest law network that seeks to engage the legal community and civil society in using the law to advance social change in Ireland. PILA operates a Pro Bono Referral Scheme that connects social justice NGOs and community organisations with pro bono legal assistance. More at www.pila.ie
List of participants in the CICL series:
NGOs - Rachel Power, PILA; Orla O'Connor, National Women's Council of Ireland; Brian Sheehan, GLEN; Catherine Cos­grave, Immigrant Council of Ireland.
Former litigants - Máirín de Burca; Dr. Micheline Sheehy Skeffington; Senator David Norris; Senator Katherine Zappone; Dr. Ann Louise Gilligan; Gandhi Mallak; Dr. Lydia Foy.
Academics and lawyers - Professor Yvonne Scannell; Mary O'Toole SC; Professor Aileen McColgan; Professor Mark Bell; Dr. Patricia Brazil BL; Professor Cathryn Costello; Maeve O'Rourke BL; Professor Gerry Whyte; Kevin Brophy, solicitor.