'Red letter day' for transgender rights in Ireland with passing of recognition law
15 July 2015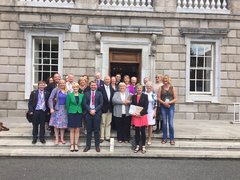 FLAC (Free Legal Advice Centres) welcomes the passing by Seanad Eireann of the Gender Recognition Act which will, for the first time, allow Transgender persons to be officially recognised in their deeply felt and true gender.  The legal rights group said: "This is a red letter day for Dr Lydia Foy whose 18-year legal battle led to the passing of the Act, for the transgender community, and for Irish democracy".
"For Lydia Foy, it is the end of a long drawn-out struggle for the right to be recognised in the gender in which she has lived for the last 25 years," commented Michael Farrell, Senior Solicitor with FLAC. The organisation has represented Dr Foy throughout her legal battle for recognition which began with High Court proceedings in 1997 and finished with a settlement earlier this year, when the Government promised to introduce this legislation and bring it through the Oireachtas as quickly as possible.
For the transgender community, FLAC said, it marked the day when they could at last come out of the shadows and live as respected and equal citizens of our society.  And for Ireland it marked a day when the representatives of the majority of the population reached out to a vulnerable minority to reassure them and guarantee that they would be treated equally in the gender that they live in every day.
Mr Farrell said it was also a good day for the legal community because Lydia Foy's long and painful legal battle, represented by FLAC, had shown how the law can be used to protect and vindicate the rights of vulnerable people: "We hope that this example will inspire many more lawyers to use the law and the European Convention on Human Rights to vindicate the rights of other people as well."
FLAC said it wanted to pay tribute in particular to Lydia Foy, the woman whose case had led to this legislation.  "She has shown exceptional courage and determination in fighting her lonely legal battle for the last 18 years.  Today, at last, she has been vindicated, but it should never have taken so long for her to get to this point.  We hope the Government will move very swiftly to put in place the mechanism for Lydia Foy and other Trans people to get new birth certificates in their true gender," said Mr Farrell.
The new Gender Recognition Act is in some ways very progressive, especially in not requiring medical certification for Trans people seeking to correct their gender records, according to FLAC.  "Unfortunately, however, it is still impossibly restrictive in its treatment of young Trans persons between 16 and 18 and makes no provision for Trans children.  Commitments have been made during the debate on the Bill to address these issues at an early date.  We hope these commitments will be delivered on as soon as possible so that no other Trans persons have to go down the long legal route that Lydia Foy faced in trying to access her rights".
/ENDS