Analysis of mortgage arrears data shows Government strategy not working
15 January 2015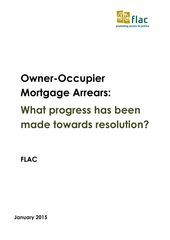 An in-depth analysis of the steps taken by the state and lenders to resolve the owner occupier mortgage arrears crisis indicates that the Government's current approach is not working and warns that repossession is set to become the main mechanism for addressing long-term owner-occupier arrears cases unless the State takes more decisive action.
Legal rights group FLAC has published a policy paper that examines in detail recent data on arrears, restructuring and repossession activity issued by state bodies. The paper shows that while the level of arrears is dropping overall, thousands of households are being left stranded by lender's current strategies and may well face repossession of their homes.
The paper, entitled 'Owner-Occupier Mortgage Arrears: What progress has been made towards resolution?' analyses figures provided by the Department of Finance, the Central Bank and the Insolvency Service of Ireland respectively for the period from September 2013 to September 2014. Key findings include:
Curiously, greater progress was made by the six main lenders under the Mortgage Arrears Resolution Targets (MART) in reducing the number of accounts in arrears over 90 days than in restructuring such accounts. For example, during the 12-month period, 13,302 exited arrears entirely but the number rescheduled only increased by a net 1,298 accounts.
Permanent restructures of MART accounts in arrears over 90 days constitute only 9% of the overall number of restructures, compared to 91% for accounts in arrears less than 90 days;
A total of over 48,000 MART accounts in arrears over 90 days remain to be restructured;
There are also over 17,000 mortgages in arrears over 90 days with sub-prime lenders, and others such as debt purchase companies, that are not subject to the MART or any specific restructuring programme;
Capitalisations of arrears and split mortgages increasingly dominate the restructuring options being offered by many lenders, but there are serious concerns about the long-term sustainability of some of these arrangements;
There has been a dramatic rise in the number of applications to repossess family homes - some 10,372 new applications were brought by lenders between Sept 2013 and Sept 2014;
By contrast, only 80 Personal Insolvency Arrangements were approved in the 12-month period examined, a negligible impact for the main tool in the new insolvency apparatus targeted at mortgage arrears.
Taking all these together, FLAC believes that the government's stated position that repossession of family homes is a last resort is not borne out. According to FLAC Senior Policy Analyst Paul Joyce, "The core question to be answered is whether the government really intends to prevent the repossession of family homes on an increasing scale. The current mechanisms are not resolving the more problematic cases and, left in the hands of lenders, there is little sign that this is likely to change."
The organisation proposes a number of recommendations arising from the findings. "An independent authority should be established to assess the viability of mortgages in arrears and where appropriate, to impose solutions on lenders that may involve compulsory write-down. Alongside this measure, the mortgage-to-rent scheme must be enhanced to deal with families in truly unsustainable arrears," said FLAC Director General Noeline Blackwell.
"The indicators are here for all to see. If we want to avoid making an already dreadful housing crisis even worse, action must be taken now. Behind the wealth of data presented in our paper there are, quite simply, real human beings who deserve to have their basic rights respected and protected," she concluded.
 "FLAC hopes to present this analysis to the members of the Joint Oireachtas Committee on Finance and Public Expenditure which has done very useful work in holding lenders to account on their arrears resolution strategies. We hope the Committee will find the conclusions of this paper useful in pursuing a more effective solution to the arrears crisis before more time is wasted for those households left high and dry by current policy," concluded Mr Joyce.
/ENDS
_______________________________________________________
Editors' notes:
FLAC (Free Legal Advice Centres) is a human rights organisation which exists to promote equal access to justice for all. FLAC is an NGO that relies on a combination of statutory funding, contributions from the legal professions and donations from individuals and grant-making foundations to support its work.
FLAC offers basic legal information through its telephone information line (1890 350 250) and free legal advice through its network of 80 volunteer evening advice centres – more at www.flac.ie/help/.  It also campaigns on a range of issues including consumer credit, personal debt, fairness in social welfare law, public interest law and civil legal aid.
The paper is available for download from the FLAC website.
More recent  MART figures from Oct/Nov that are available – as well as the latest Insolvency Service figures - are not included here, as the data analysis required  a specific 12 month period in which to compare all four sets of figures, the most recent possible period being Sept 2013 to Sept 2014.
More updates are available on FLAC's policy work and comment on personal debt issues.