Consumer protection on agenda for new Oireachtas term
17 September 2014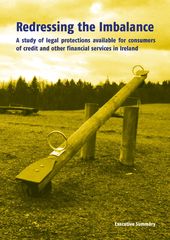 Legal rights group FLAC (Free Legal Advice Centres) will mark the first day of the new Dáil term today with a presentation on legal protection for consumers of financial services in Ireland.
At a hearing with the Joint Oireachtas Committee on Public Service Oversight and Petitions, FLAC will describe some of the current gaps as analysed in its recent report, Redressing the Imbalance. Presenting to the Committee will be FLAC Director General Noeline Blackwell and Senior Policy Analyst Paul Joyce.
Commenting ahead of the hearing, Mr Joyce said, "FLAC's aim here is to suggest ways that the State might address the gaps we have identified. We will point to issues like poorly transposed EU legislation, poor monitoring and enforcement of such legislation, the uneven application of Central Bank codes and their enforcement. In particular, FLAC will talk about the overwhelming inequality of arms between consumers and financial institutions when it comes to complaints and redress mechanisms. "
"While we support the need for mechanisms such as the Financial Services Ombudsman, our research shows these structures require substantial overhaul to be fit for the purpose of fully protecting consumers' interests. A number of the people we spoke to in our research found the processes less than user-friendly and felt disadvantaged by the welter of technical detail. FLAC is also critical of some aspects of the underlying legislation, especially the prohibitive nature and potential cost of the appeal to the High Court and the 'six-year rule' limiting complaints to the FSO within six years of the conduct complained of," he added.
One concrete example of poor protection concerns Hire Purchase. Although a lender must provide a written HP agreement, it is not legally obliged to carry out any checks in relation to the suitability of the agreement for the borrower's needs or the borrower's capacity to service it in terms of affordability. Hire Purchase finance companies are not regulated by the Central Bank and the Bank's Consumer Protection Code does not apply to them. FLAC has raised this issue with both the Central Bank and the Department of Finance for some time.  It is in FLAC's view now of growing concern with Hire Purchase lending becoming once again a common form of car finance.  
FLAC will also explain that in addition to alternative dispute resolution mechanisms, there is also a need for a viable appeals mechanism to the courts. "Clearly out-of-court redress mechanisms are essential – they are generally lower-cost, more accessible and less legally complex – but where a person is not satisfied with the outcome of his or her complaint, then affordable and comprehensive access to the courts must be a real option," said FLAC Director General Noeline Blackwell.  
The hearing takes place today (17 September) at 4pm in Committee Room 3 at Leinster House.
________________________________________________________
Editors' notes:
FLAC (Free Legal Advice Centres) is a human rights organisation which exists to promote equal access to justice for all. FLAC is an NGO that relies on a combination of statutory funding, contributions from the legal professions and donations from individuals and grant-making foundations to support its work.
FLAC offers basic legal information through its telephone information line (1890 350 250) and free legal advice through its network of 80 volunteer evening advice centres – more at www.flac.ie/help/.  It also campaigns on a range of issues including personal debt, fairness in social welfare law, public interest law and civil legal aid.
FLAC will present to the Joint Oireachtas Committee on Public Service Oversight and Petitions on Wednesday 17 September 2014 at 4pm. 
The text of FLAC's presentation to the JOC-PSOP will be on the FLAC website from 4:30pm.
Published in March 2014, Redressing the Imbalance critically examines the legal protections available to consumers of credit and other financial services in Ireland. It identifies a number of deficiencies and gaps in how such protections are provided.  It also suggests that a systemic approach has evolved which has consistently served to prioritise the interests of financial service institutions over those of consumers. The report provides a detailed account of how European-level developments, piecemeal domestic legislation and selective financial regulation have combined to leave many consumers of financial service in Ireland – in particular consumers of credit and distressed mortgage borrowers – particularly exposed. Drawing on the experiences of consumers and their advocates, the study further highlights how such exposure can be compounded by difficulties accessing and using mechanisms ostensibly designed to facilitate the resolution of complaints against providers. The report concludes with a series of recommendations as to how these flaws in the legal infrastructure might be redressed from a financial service user perspective. It is available to download in PDF format.