More than 27,000 legal queries in 2013 highlight gaps in the legal system
7 July 2014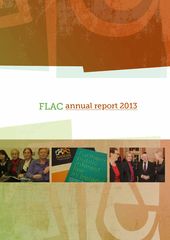 Legal rights group FLAC has directly helped some 27,546 people with their legal queries in 2013, according to its annual report for 2013 launched by Chief Justice Susan Denham on Monday 7 July.
 The organisation said that the numbers contacting it were up 10% on last year. The main questions that people raised were family problems, employment issues and debt worries on both the lo-call information line 1890 350 250 and in the evening free advice centres run by FLAC volunteers in conjunction with Citizens Information Centres.  The telephone information service also saw a sharp rise in housing law issues, particularly the rights and responsibilities of landlords and tenants, recording an increase of 83% over 2012.  Questions about neighbour disputes and breaches of contract also rose in those phoning for information. 
 Commented FLAC's Director General Noeline Blackwell: "It's not just the number of enquiries that we should note, but also that people seem to have more complex questions, with those in trouble finding their lives ever harder to manage.  This is why, as well as giving people basic information and advice, FLAC also seeks changes to the legal system which would make it fairer and allow people better access to their rights. Sometimes, they just need to be able to talk to a lawyer but the structures and systems that exist often mystify people; they can't get justice because they can't negotiate the systems.  Our work in 2013 involved getting information and advice to those who needed it and also challenging unfair systems where they hinder access to justice."
The FLAC Annual Report for 2013 showcases the organisation's policy submissions and research across its priority areas. These include laws affecting those on social welfare or hit by consumer debt, those needing consumer credit or access to the civil legal aid system, and the long-standing campaign for transgender recognition.  The organisation also advanced its goal of promoting a human rights and equality perspective to Government Budgets during the year through its Public Interest Law Alliance project, PILA. Through PILA, the organisation also matched 50 social justice organisations needing legal support with pro bono legal assistance from law firms and barristers and delivered legal education sessions to more than 200 people in those organisations.
In addition to the annual report, FLAC launched an updated series of leaflets for the general public on basic issues in family law as well as on  wills and estates and, as FLAC attributes directly to queries from the public, there is a new leaflet on landlord and tenant law.
 "FLAC will continue to campaign for reform of the social welfare appeals system, for recognition of transgender identity, for a stronger consumer voice in legal structures around personal credit and debt, and for proper, timely access to legal information and advice for people who need it," concluded Ms Blackwell.
/ENDS
#flac2013
____________________________________________________________
Editors' notes:
FLAC (Free Legal Advice Centres) is a human rights organisation which exists to promote equal access to justice for all. As an NGO, FLAC relies on a combination of statutory funding, contributions from the legal professions and donations from individuals and grant-making foundations to support its work.
We offer free, confidential basic legal information on our lo-call telephone line at 1890 350 250, and free legal advice through a nationwide network of volunteer evening advice centres (see http://www.flac.ie/help for a full listing). FLAC also campaigns for legal reforms on a range of issues including personal debt, fairness in social welfare law, public interest law and civil legal aid.
The 2013 annual report  is available to download from the FLAC website.
There will be a photo call on Monday morning at 10:55 at the FLAC offices. FLAC will release photos from the event by Derek Speirs for free repro later on Monday.
A briefing on the report's highlights, is available to download.
A more detailed breakdown of data used to compile statistics on centres around the country, is also available to download.