Comprehensive reform of protections for consumers of credit and other financial services urgently needed
7 March 2014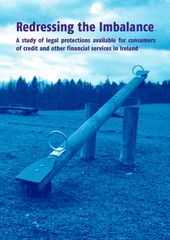 The state is failing to properly protect people who avail of credit and other financial services; that is the key finding from a new report by legal rights group FLAC (Free Legal Advice Centres).
The in-depth study critically analyses the legal protections offered by the State to those availing of credit from banks, hire-purchase companies, credit unions and other finance suppliers.  The analysis contained in the report asserts that there are wide ranging flaws and gaps in the consumer credit infrastructure. According to the report, these arise from a confusing regulatory landscape and an approach which prioritises the convenience of financial providers over the needs and rights of consumers.
According to the principal author of the report, FLAC's Senior Policy Analyst Paul Joyce: "It is important that we recognise that by availing of financial services, consumers take economic risks and contribute to the economic life of society.  Therefore our systems should equally safeguard the rights of consumers whilst facilitating the provision of financial services.  The balance is currently tilted in favour of the provider, giving rise to the need to redress the imbalance, which is both the theme and the title of our report"
"To our knowledge, this is the first time that anyone has looked at the entire system surrounding the provision of credit from the perspective of the consumer" said FLAC Director General Noeline Blackwell. "The report shows an urgent need to recognise that people have rights in the context of buying credit or other financial products.  This means ensuring that they have adequate protection at the point of purchase and when problems arise, they should have realistic and workable redress mechanisms together with appropriate and timely advice and information."
The report includes interviews conducted by independent social researcher Dr. Stuart Stamp into how consumers found the experience of using the redress systems available. In particular, the report details instances of consumers who were angry and dissatisfied at the conclusion of their complaints to the Financial Services Ombudsman and the report recommends that the office be independently evaluated and its systems made more transparent.
Mr. Joyce concluded:  "FLAC has been working to improve systems for those who are seriously over indebted in recent years.  Now it is essential that we act to reduce consumer indebtedness in the future by prevention rather than the much more difficult cure. This must involve a responsible well regulated consumer credit market. We must provide consumers of financial services with a more accessible complaints mechanism and assistance to properly formulate their complaints."
/ENDS
___________________________________________________________
Editors' notes:
FLAC (Free Legal Advice Centres) is a human rights organisation which exists to promote equal access to justice for all. As an NGO, FLAC relies on a combination of statutory funding, contributions from the legal professions and donations from individuals and grant-making foundations to support its work.
We offer free, confidential basic legal information on our lo-call telephone line at 1890 350 250, and free legal advice through a nationwide network of volunteer evening advice centres (see http://www.flac.ie/help/ for a full listing). FLAC also campaigns for legal reforms on a range of issues including personal debt, fairness in social welfare law, public interest law and civil legal aid.
'Redressing the Imbalance' is available to download as a PDF. The Executive Summary is also available to download.
Report authors, Paul Joyce, FLAC's Senior Policy Analyst and Dr Stuart Stamp, Independent Social Researcher and Research Associate, Dept. Applied Social Studies, NUI Maynooth, will present the report findings and recommendations around consumer-proofing our legislative framework at the launch of the report in Buswells Hotel at 11am. FLAC Director General Noeline Blackwell will chair proceedings.
Photos by Derek Speirs will be available for free repro on Friday afternoon.
In October FLAC published a guide for people in mortgage arrears to take them through the mechanisms available up to insolvency. The guide is free to download from the FLAC website as a PDF: http://www.flac.ie/publications/moving-out-of-mortgage-arrears-and-personal-debt-part-one-a-guide-to-the-ccma-2013/