2014 Thomas Addis Emmet Fellowship
4 December 2013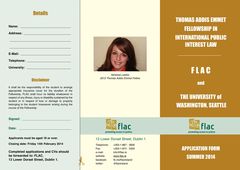 FLAC is now welcoming applications from law students, graduates, postgraduates and Law Society students for the 2014 Thomas Addis Emmet Fellowship.
The Fellowship is run in conjunction with the University of Washington in Seattle, US every summer. The successful applicant works for two months as an intern and gains first-hand experience of human rights and public interest legal cases.
To apply, please download and complete the application which is available here. Application forms should be accompanied with a comprehensive CV and returned no later than 14 February 2014, to FLAC Head Office, 13 Lower Dorset Steet, Dublin 1.