Concerns remain for those in mortgage arrears
28 November 2013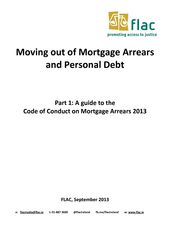 FLAC (Free Legal Advice Centres) was glad to see that there was a small reduction in the numbers of family home mortgage accounts in short term arrears in the figures released today by the Central Bank. However, as the Bank itself points out, this masks something that is a real concern, which is the increase of 10% in principal private dwelling mortgages in long term arrears - over 2 years.
FLAC's Senior Policy Analyst Paul Joyce notes that "these are particularly concerning because that's nearly 32,000 accounts where the average arrears exist for over 2 years and where the average level of arrears has risen from 40,000 in the last quarter to over 41,000".
Mr Joyce also pointed out that the figures that we have only refer to the mortgage debt. "The chances are that these people have other unsecured debt which they are trying to manage as well - but we have no data on that. These long term arrears will be particularly difficult to restructure".
FLAC also notes that the amount of 'other' as a category in mortgage restructuring is now so large as to merit some further explanation. "The Code of Conduct on Mortgage Arrears allows for principal reduction and equity participation as a possible solution to mortgage arrears, but it is not mentioned as a restructuring option at all. Is it included in 'Other' which jumped by 4,000 from 2,300 to 6,325?" asked Mr Joyce.
Despite the extensive information furnished today, there is still no indication from the Central Bank as to whether they are satisfied with how lenders are meeting targets for mortgage restructuring. Noeline Blackwell, Director General of FLAC commented that "we do not know whether they have examined the bank reports to identify if sustainable solutions are being offered to borrowers in line with an approved process. On a daily basis, FLAC continues to get calls to its phone line and centres from people who are being offered solutions that often seem inexplicable to them".
/ENDS
______________________________________________________________________________________
Editors' notes: