New legal proceedings issued to highlight continued state injustice on transgender rights
27 February 2013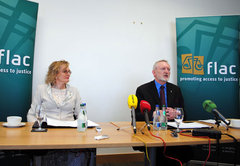 Legal rights group FLAC (Free Legal Advice Centres) today announced it had issued fresh proceedings on behalf of Dr Lydia Foy, a transgender woman who has been fighting for gender recognition in Ireland for two decades. FLAC has been representing Dr Foy since 1996.
She is going back to court five years after the High Court declared that the State had violated her rights under the European Convention on Human Rights. This was the first time an Irish court had issued such a declaration.

The High Court ruled in October 2007 that the State should issue Dr Foy with a new birth certificate recognising her female gender. But more than five years later, she is still waiting for the certificate. The Registrar General has said the law needs to be changed to do this and despite Government promises, there is still no sign of new legislation.

It is now 20 years since Dr Foy first applied for a new birth certificate and 16 years since she began legal proceedings to secure recognition of her acquired gender.
"This has been a long and painful journey for Lydia Foy," said FLAC solicitor Michael Farrell. "Dr Foy has had her hopes raised several times only to have them dashed again. The courts have ruled that her rights have been violated but nothing changes. It is deeply unfair to make her wait any longer".

Dr Foy is asking the High Court to declare that the Government is obliged under the European Convention on Human Rights or the Constitution to introduce new legislation to recognise her - and other transgender persons - in her acquired gender. Alternatively, she is asking the Court to declare that the European Convention on Human Rights Act 2003, which was introduced to incorporate the Convention into Irish law, is ineffective and must be changed.

Commented Mr Farrell: "Ireland is now the only state in the EU that has no legal provision at all for recognising transgender persons in their acquired gender. It is ironic that the Tanaiste Eamon Gilmore addressed the United Nations Human Rights Council today (Wednesday) and mentioned gender identity issues when the Irish Government is clearly in breach of the European Convention on Human Rights on this issue."

/Ends
_______________________________________________________________________________
Editors' notes:
FLAC (Free Legal Advice Centres) is a human rights organisation which exists to promote equal access to justice for all. As an NGO, FLAC relies on a combination of statutory funding, contributions from the legal professions and donations from individuals and grant-making foundations to support its work.
We offer free, confidential basic legal information on our lo-call telephone line at 1890 350 250, and free legal advice through a network of 80 volunteer evening advice centres. FLAC also campaigns for legal reforms on a range of issues including personal debt, fairness in social welfare law, public interest law and civil legal aid.
You can read a detailed briefing note on the Foy case from February 2013.