European rights watchdog demands action on transgender rights, asylum reform
6 December 2012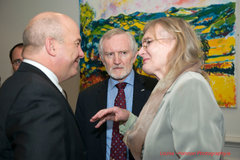 A leading European human rights watchdog has released details of his correspondence with Irish ministers, calling on the government to  work more quickly to legislate for transgender recognition and to reform the country's immigration and asylum system, as well as sounding a note of caution on government plans to merge existing human rights and equality bodies. 
Council of Europe Human Rights Commissioner Nils Muiznieks  published letters he wrote to Ministers Shatter, Burton and Lynch in November following his visit to Ireland in October, as well as the Ministers' replies to him.
In his letter to Minister for Social Protection Joan Burton, he refers to his meeting with transgender rights champion  Lydia Foy, who brought the groundbreaking case that has necessitated the drafting of legislation on transgender rights. In today's statement, the Commissioner notes that legislation to recognise transgender people is being drafted  to bring Ireland in line with human rights obligations, but expressed his concern that there was no clear timeline. Mr Muiznieks stressed that  "Five years have elapsed since a High Court's judgment found Ireland in breach of the European Convention on Human Rights in this field. The implementation process should be accelerated."
FLAC solicitor Michael Farrell, who represented Lydia Foy in her legal challenge, said the five-year delay in acting upon the High Court's judgment  in her case was unacceptable.  "Ms Foy and other transgender persons have had to suffer regular embarrassment and humiliation because their birth certificates contradict their appearance and the gender they live in" said Mr Farrell. He noted that the Government's failure to implement the court's decision also undermined the legislation that had incorporated the European Convention on Human Rights into Irish law. The High Court had issued the first-ever Certificate of Incompatibility with the European Convention in Ms Foy's case.
Mr Muiznieks also raised the issue of reforming Ireland's system of handling asylum-seekers, particularly the position of children who must live in unacceptable conditions in direct provision centres for extended periods. Minister for Justice, Defence and Equality Alan Shatter in his reply notes the comments and states that draft law on immigration, residence and protection will be published in early 2013, which Mr Muiznieks welcomed as an important step.
In addition, the Commissioner warned against weakening the effectiveness and independence of national bodies to monitor human rights, given the ongoing merger of the two existing bodies into a new Human Rights and Equality Commission.
"The independence of the new Commission should be clearly reflected in the way its members are appointed, the manner in which its staff is selected and recruited and in the arrangements for the allocation of its budget. It will also be important to ensure that the Equality Tribunal dealing with individual complaints under equality legislation be able to continue to fulfil its quasi-judicial function in an independent manner," said Mr Muiznieks.
/Ends
 Editors' notes:
FLAC (Free Legal Advice Centres) is a human rights organisation which exists to promote equal justice for all. FLAC is an NGO that relies on a combination of statutory funding, contributions from the legal professions and donations from individuals and grant-making foundations to support its work. FLAC offers basic legal information through its telephone information line and free legal advice through its network of more than 80 volunteer evening advice centres. It also campaigns on a range of issues including personal debt, fairness in social welfare law, public interest law and civil legal aid.
Commissioner Muiznieks met transgender champion Lydia Foy at the ILGA-Europe 16th Annual Conference in Dublin in October.  Mr Muiznieks said that he was honoured to meet Ms Foy and noted that she was still waiting for recognition of her female gender identity after litigation that had gone on for over a decade. You can read more about this in FLAC's release. Photos of this meeting are also available for release.