Seanad motion on social welfare appeals system supports need for change sooner rather than later
7 November 2012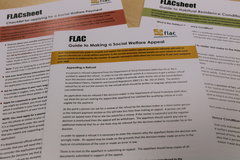 Legal rights group FLAC today called on the government to make some simple changes to improve a key support system for people in Ireland, ahead of a motion being put forward by Independent Senators around FLAC's recent report recommending root-and-branch reform of social welfare appeals.
Speaking before a lunchtime briefing for Oireachtas members ahead of the motion, FLAC Policy & Advocacy Officer Saoirse Brady said the motion clearly identified a number of actions that would vastly improve the efficiency and effectiveness of the Social Welfare Appeals Office. FLAC is concerned that the Appeals Office does not meet basic standards in several areas, including independence, transparency and a fair balance between both sides of the appeal.
"The structure of the social welfare appeals system is more or less the same since it was established more than 20 years ago, despite the fact that it is now coping with record numbers of appeals. While FLAC acknowledges some changes have been made to improve efficiency, people are still waiting too long for decisions and appellants are often at a disadvantage - they do not have access to information relevant to their appeal, including previous decisions. They may not always know that they can ask to present their case in person, which is particularly important as this gives a much higher success rate," said Ms Brady, who authored FLAC's report.
The motion, proposed by Senators Katherine Zappone, Jillian Van Turnhout, Fiach McConghail, Mary Ann O'Brien, Martin Mc Aleese and Marie Louise O'Donnell, acknowledges external pressures on the appeals system but suggests a range of measures to enhance its independence, transparency and fairness. These include:
putting more resources into the system at the initial decision stage to maximise cost-effectiveness and reduce the number of appeals against wrong refusals;
simplifying and making social welfare application forms more accessible;
automatically providing appellants with their social welfare file including the Deciding Officer's submission without having to make an FOI request;
anonymising the Department of Social Protection's database of significant decisions and make available to the public, as recommended by the UN Special Rapporteur on Extreme Poverty in 2011;
amending social welfare appeal forms to include an option to request an oral hearing;
directing that Social Welfare Office staff ensure that claimants are able to make an application or are assisted to do so where necessary; and
making civil legal aid available for appellants in complex cases.
FLAC's presentation takes place in the Leinster House AV Room at 1pm and features inputs from Saoirse Brady, FLAC Senior Solicitor Michael Farrell and Moya de Paor, Acting Managing Solicitor with Northside Community Law Centre.
#notfairenough
/Ends
____________________________________________________________________________________________________________
Editors' notes:
1. FLAC (Free Legal Advice Centres) is a human rights organisation which exists to promote equal justice for all. FLAC is an NGO that relies on a combination of statutory funding, contributions from the legal professions and donations from individuals and grant-making foundations to support its work. FLAC offers basic legal information through its telephone information line, its publications and website and free legal advice through its network of 80 volunteer evening advice centres. It also campaigns to reform the law on a range of issues including unfairness in social welfare law, personal debt, public interest law and civil legal aid.

2. The Not Fair Enough report and an Executive Summary are available to download as PDFs from the FLAC website - as well as a briefing note, a checklist of human rights principles for the social welfare appeals system and presentations on the appeals system from the Ombudsman, the Law Centre Northern Ireland and the Chief Appeals Officer.

3. The text of the motion is available online and will be in the Seanad in the session starting at 5pm, 7 November.

4. FLAC also launched three guides to aspects of the social welfare system which are free to download from its website:
5. Key issues raised in 'Not Fair Enough' include:
Lack of actual and perceived independence of the Appeals Office as it remains a section of the Department of Social Protection.
Appeals Officers are civil servants appointed by the Minister for Social Protection without any public appointment process based on merit.
The increased workload of the Appeals Office and the impact this is having on processing times; also leading to greater reliance on summary decision-making to reduce waiting times despite a higher success rate when an oral hearing is held.
First-instance application processes and decision-making need to be improved to prevent unnecessary appeals and ensure that people access their rights in a fair and timely way.
Inequality of arms or an imbalance of fairness where the appellant has no assistance or representation.
Lack of transparency around the social welfare appeals process including lack of access to relevant information such as the Deciding Officer's submission made prior to the Appeal's Officers decision.
Appeals Office does not publish its decisions which can leave the appellant at a disadvantage where an established point of law or policy has already been decided on clarified in a previous appeal.