Human rights defender jailed in Belarus - call for action on his release
24 November 2011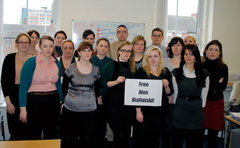 Human rights are under attack in Europe with the arrest and now sentencing of activist Ales Bialiatski. Ales was given 4.5 years in jail for tax evasion on a grand scale' on Thursday morning, 24 November - a charge which international rights groups say is a cover-up for the state suppression of his legitimate human rights work.
Ales Bialiatski is chairperson of the Belarusian human rights center Viasna, established in 1996. He was arrested on 4 August 2011 and tried in Minsk for tax evasion. Many see the trial as an attempt by the Belarusian authorities to end Ales' activism and to discourage other human rights defenders.
International observers were refused entry visas to Belarus to attend the trial, although some did make it through to monitor the process. Ales has previously been detained, fined and assaulted for his work in promoting and defending human rights in Belarus.
Founded in 1996, Viasna was subsequently dissolved by Belarusian authorities in 2003. The state has repeatedly refused to re-register and recognise Viasna as a legitimate non-governmental organisation.
In 2007 the UN Human Rights Committee examined a complaint by Ales Bialiatski and found that in closing Viasna and refusing to re-register it, the Belarusian state had violated the freedom of assembly afforded under Article 22 of the International Covenant on Civil and Political Rights (ICCPR). Belarus has declined to implement the UN Committee's recommendation to reverse its actions.
Ales Bialiatski is also Vice President of the International Federation for Human Rights (FIDH), of which FLAC is a member. FIDH is calling on the international community to stand in solidarity with Ales and seek his immediate and unconditional release, with a global day of action planned for Friday 25 November.
More information: