Good Friday Agreement commitment to human rights still worth fighting for
11 November 2011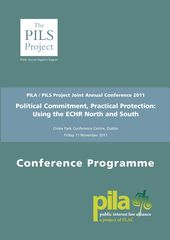 Changes to the UK's human rights regime proposed by the coalition government are a negative step and would undermine the practical successes of the 1998 Human Rights Act, the Director of a leading UK rights pressure group told almost 400 attendees at a conference on public interest law in Dublin today.

The European Convention on Human Rights is currently enshrined in both Irish and UK law and has been used to protect the rights of marginalised and disadvantaged people. However the UK government is now backing changes to the Human Rights Act which Shami Chakrabarti of UK rights group Liberty says "will make fundamental rights and freedoms more contingent on citizenship, good behaviour or other palatable status."

Given the guarantees provided by the Good Friday Agreement around equivalent human rights protections in the North and South, activists argue that in the current political climate it is more important than ever to maintain a cross-border commitment to equivalent protection.

"Crude and ignorant attacks on the Human Rights Act in the UK should be troubling to friends of freedom further afield. How bizarre to talk up universal human rights abroad whilst seeking to dilute and diminish them at home. Fundamental rights and freedoms cannot be contingent on any particular patriot status," said Ms Chakrabarti.

The conference, entitled ' Political Commitment, Practical Protection: Using the ECHR North and South' was jointly organised by two independent public interest law bodies, the Dublin-based Public Interest Law Alliance (PILA) and the Belfast-based Public Interest Litigation Support Project (PILS).

PILA Manager Larry Donnelly said that the huge attendance at the conference in Croke Park exemplified the force for change marshalled by legal practitioners, independent organisations, universities and campaigners using law in the public interest.

"PILA sees at first hand the breadth of excellent pro bono work that lawyers are doing to meet the ongoing, unmet legal needs of community and voluntary organisations. These bodies are working on the coalface with vulnerable groups and individuals to address Irish society's most profound problems. We've also discovered great expertise and enthusiasm from legal academics and law students for advancing the use of law in the public interest", according to Mr Donnelly.

The conference featured issues such as children's rights, housing, mental health, prisoners and Travellers. Speakers included legal academics Ursula Kilkelly and conference chair Donncha O'Connell, solicitors Michael Finucane and Catherine Ghent, independent law centre advocates Michael Farrell and Colin Daly, and barristers David Joyce and Alyson Kilpatrick.

Delegates were struck by the importance of safeguarding human rights protections across borders as highlighted in the conference. "In this ever-shrinking world we must all choose between being humans everywhere or foreigners almost everywhere," concluded Ms Chakrabarti.

/ENDS


---
Editors' notes:
The Public Interest Law Alliance (PILA) was established as a project of the Free Legal Advice Centres Ltd (FLAC) in 2009 and is based in Dublin. PILA operates a rapidly expanding pro bono referral scheme, through which it matches expertise in law firms and at the Bar with specific legal needs in non-governmental organisations (NGOs), community groups and law centres. Read more at http://www.pila.ie
The Public Interest Litigation Support (PILS) Project was established in 2009 and is based in Belfast. It seeks to advance human rights and equality in Northern Ireland through the use of and support for public interest litigation. The PILS Project works with a range of NGOs helping them use the law effectively and has provided legal support in 22 instances with notable success. See more at http://www.pilsni.org
You can see the conference programme online.
The joint conference is the first cross-border event on the practical use of the Convention since the Good Friday Agreement of 1998. It will be held annually from this year.
The European Convention on Human Rights is a protection for people in Europe when a State fails to respect basic rights. It was incorporated into Irish law in the ECHR Act 2003 and is a significant extra protection for the rights of people in this country. The equivalent UK legislation is the Human Rights Act 1998.