UN examination of Ireland's human rights track record affects us all
5 October 2011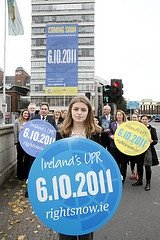 While Justice Minister Alan Shatter is defending Ireland's human rights performance at the UN headquarters in Geneva on Thursday morning, legal rights group FLAC has called on the government to maintain Ireland's track record on human rights even while facing up to budget realities.
"Our international human rights obligations are every bit as important as our commitments to the EU and IMF," said FLAC Director General Noeline Blackwell. "These obligations are important for every person in Ireland because they govern basic, everyday issues, like the need to make sure that all those who need help to access the legal system can get that help, or to ensure that every child living in Ireland has a decent standard of living."
Whereas countries around the globe will be questioning Ireland on its human rights performance on Thursday 6 October, some European states have submitted questions in advance of the session. Coming from countries like the UK, Norway and the Netherlands, these questions range very broadly, from recognition of modern-day family arrangements and collective bargaining rights through sub-standard prison conditions and recognition of Travellers to the failure to legislate for abortion and secure diversity in education.
In addition to its part in a coalition of human rights groups under the banner of 'Your Rights Right Now', FLAC has highlighted some key issues where the government must improve its human rights protections. Some of these have been highlighted by Ireland's peers, such as
how the government plans to ensure and assess that economic measures do not disproportionally impact on vulnerable groups in society or have a general retrogressive effect, and when it plans to introduce the Gender Recognition Bill (the Netherlands),
what it will change on immigration policy to meet European human rights standards (the Czech Republic); and
what specific measures it plans to ensure that particularly vulnerable groups of children can enjoy the same rights to health, safety, education and welfare as other Irish children (Sweden).
"The truth is, human rights are most important during difficult times," stressed Ms Blackwell, "and human rights violations don't just happen in far-away lands.
"In FLAC centres around Ireland and on our telephone information line, we are hearing real stories from real people about real human rights violations happening right now in Ireland. That is why we are trying to raise awareness of this event and that is why we have been pressing Government to mind its human rights commitments. Now more than ever we are in danger of breaching international law on human rights."
Ms Blackwell will attend a breakfast screening of the UPR examination at Liberty Hall, Dublin 1 tomorrow.
/ENDS
---
Editors' notes:
FLAC (Free Legal Advice Centres) is an independent human rights organisation dedicated to the realisation of equal access to justice for all.
The UN has introduced an innovative mechanism to examine how member states are meeting their human rights obligations by having peers question each other under a Universal Periodic Review. Ireland is having its first UPR examination on 6 October at 8-11am Irish Time. FLAC Research & Campaigns Officer Saoirse Brady will be in Geneva at the session and tweeting live @flacireland #UPRIRL
Noeline Blackwell will attend the Liberty Hall screening of the UPR on 6 October from 8am to 11am, together with a host of representatives from other civil society organisations. Journalists and media are encouraged to drop in at any time between 8.00 am and 11.00 am to enjoy a light breakfast and meet with these representatives while watching the live feed from the UN in Geneva.
You can read the full list of advance questions for Ireland's UPR examination from our European peers.
The Cross-Sectoral Steering Group of 17 independent Irish human rights organisations including FLAC submitted a shadow stakeholder report to the UN detailing a list of issues where Ireland needs to improve its performance. The Your Rights Right Now website will have a live feed from Geneva as well as live tweets @RightsNowUPR #UPRIRL
FLAC made a separate submission on Ireland's UPR 2011 and issued a response to the Government's National Report.
The UN has compiled concerns of civil society and others on Ireland's UPR in a Stakeholder Report.
You can also read our FLACsheet on 'Realising Rights in a Recession'.
A report on his visit to Ireland of the Commissioner for Human Rights of the Council of Europe, Thomas Hammarberg, is entitled " Human rights of vulnerable groups in times of austerity budgets", issued on 15 September 2011.
There will be breakfast screenings of the UPR examination live from Geneva from 8am to 11am on 6 October in a number of locations: