TV3's Lydia Foy documentary wins at the Justice Media Awards 2011
4 July 2011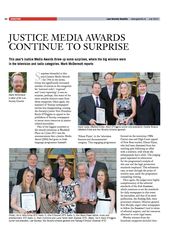 TV3's The Morning Show has won a Merit Certificate at the Law Society's Justice Media Awards for a programme it did last year on "A 13-year Battle for Legal Recognition as a Woman: Dr Lydia Foy". This interview was based on an extended interview with Dr Foy and also included input from FLAC's senior solicitor Michael Farrell.
What the judges said:
"For its highly informative treatment of this seminal case, a 'Certificates of Merit' has been awarded to this programme, which examined the 13-year legal battle of Dr Lydia Foy for the right to have her birth certificate and passport issued in her acquired gender. Registered as a male at birth, she had fought for legal recognition for her acquired gender since 1997.
After winning a High Court battle in 2007, she faced more obstacles as the State appealed the ruling. The High Court had found that Irish law on transgender rights were in breach of Dr Foy's rights under Article 8 of the European Convention on Human Rights. The State subsequently withdrew its appeal against the 2007 ruling, thanks to the sterling work of FLAC, and in particular their senior solicitor Michael Farrell. In this programme, the presenters interviewed Dr Foy and Michael Farrell in the studio and heard, first-hand, Dr Foy's battle for justice."
A summary of all the Justice Media Awards winners can be found in the latest edition of the Law Society Gazette which you can access here.