Provision for asylum seekers fails to measure up under human rights law, 10 years on
18 February 2010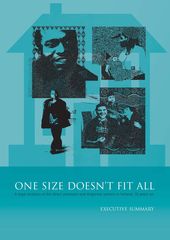 At a joint media event today in Dublin's Buswells Hotel to mark United Nations Social Justice Day, legal rights group FLAC called for full-scale reform of the system that provides for asylum seekers in Ireland. The event also screened a story from Living in Direct Provision, a collaboration between ISICI and the Forum on Migration and Communications (FOMACS).

The new FLAC report critiques the system of direct provision and dispersal as one that serves the needs of bureaucracy rather than the needs and rights of a vulnerable group of people to whom the State has a defined duty of care. Entitled One Size Doesn't Fit All, the report analyses the direct provision system from an international and domestic human rights law perspective, finding it currently does not meet basic human rights standards.

"The system of direct provision treats those who are in hostels like units to be administered rather than people. That's why we've called our report One Size Doesn't Fit All," commented FLAC Director General Noeline Blackwell.

"We are putting forward recommendations for reform so that any person awaiting a decision on immigration status can be allowed to live with basic dignity and respect and not experience further degradation of his or her human rights. FLAC believes that people who have to wait on decisions should be treated fairly and should be able to enjoy the basic rights we are all entitled to," she added.
In screening, 'Crossing Over', from the DVD entitled Living in Direct Provision, CEO of ISICI Josephine Ahern explained that the idea to produce this resource arose from the need to capture the lived experiences of people in asylum hostels across Ireland. This was done by engaging with them and by providing training in digital storytelling to assist in the narration of their stories and to increase public understanding of the difficulties faced, especially by children and families.
"People can live in this system for upward of five years without access to education and employment and in redressing this basic right, which is provided in other EU countries, it is also imperative that government provides a timely information and legal advice service for asylum seekers when they arrive here. National efforts at integration must also address the needs of people in this situation," Ms Ahern said.
The newly appointed CEO of the Irish Refugee Council, Sue Conlan, also spoke at the launch. "What may have been suitable 10 years ago as a short-term, temporary measure has become the norm to the extent that a whole group of people are excluded from any meaningful participation in Irish society. This is not only to their own detriment but equally to the disadvantage of the communities in which they live.

"The anniversary of the introduction of direct provision is the time to seize the opportunity to ensure that every asylum seeker is allowed to live with dignity and to have their human rights respected," concluded Ms Conlan.

FLAC's Policy & Campaigns Officer Saoirse Brady said "Direct provision residents are living in a situation where they receive a weekly allowance of €19.10 per adult and €9.60 per child, the only social welfare payment not to have increased since its introduction 10 years ago. Such meagre payments run counter to most government anti-poverty policies and this situation must be addressed."

The event also featured comment from organisations concerned about the care of asylum seekers, such as the HSE, the Ombudsman for Children's Office and SPIRASI.

---
Note for editors:
You can download a PDF of the FLAC report, One Size Doesn't Fit All and the Executive Summary online.
A DVD entitled Living in Direct Provision is currently in production from ISICI and FOMACS.
FLAC (Free Legal Advice Centres) is an independent human rights organisation dedicated to the realisation of equal access to justice for all. It campaigns through advocacy, strategic litigation and authoritative analysis to contribute to the eradication of social and economic exclusion.
ISICI (Integration and Social Inclusion Centre of Ireland, trading as Integrating Ireland and Refugee Information Service) works in the fields of international protection and the integration and inclusion of immigrants in Ireland. The organisation provides information, advice, referral, advocacy and training services nationwide and conducts research to influence immigration, residence and protection law, policy and practice. Engagement at local and regional levels is facilitated via a network of more than 230 affiliated organisations across the country.
http://www.integratingireland.ie and http://www.ris.ie
FOMACS (Forum on Migration and Communications) is a collaborative public media project, producing film, photographic, digital storytelling, radio, animation and print stories on the topic of immigration and integration in Ireland, with the aim of reaching and engaging diverse audiences.
http://www.fomacs.org/