Campaign to restore universal Child Benefit launched on International Children's Day
21 November 2006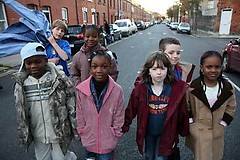 FLAC, along with its partner organisations, is seeking the reinstatement of Child Benefit as a universal payment. Its removal in May 2004 has left many families in vulnerable situations, and especially their children, deprived of this important anti-poverty mechanism.
To this end, the independent human rights organisation launched its campaign to restore universal Child Benefit on 20 November 2006, International Children's Day, with an event in Dublin's Mansion House. Prof. Ivana Bacik of Trinity College Dublin officially launched the campaign, with FLAC's Director General, Noeline Blackwell.
The assembled gathering also heard addresses from Maria Corbett, Children's Rights Alliance, David Joyce, Irish Congress of Trade Unions, Jacqueline Healy, Migrant Rights Centre, and Adrian Cristea, Vincentian Refugee Centre as well as Dr Mary Toomey. Proceedings were much enlivened by performances from the Discovery Choir.
More information? You can read about the campaign and about who is affected by the removal of Child Benefit as a universal payment in our factsheet and our campaign leaflet (in PDF format). Also, you can download the speeches made by Noeline Blackwell and Prof Ivana Bacik at the launch. You could, in addition, download and sign our petition (in Word format).
If you have further questions or if you would like a campaign pack (info leaflet, postcard, factsheet and sample letter to TDs) please contact us at campaigns@flac.ie or by telephone at 01-874 5690.
The campaign to restore universal Child Benefit is actively supported by:
Akidwa, Immigrant Council of Ireland, Integrating Ireland, Irish Congress of Trade Unions, Irish Refugee Council, Jesuit Refugee Service, Migrants Rights Centre Ireland, SIPTU and the Vincentian Refugee Centre.