What to expect when you visit a legal advice centre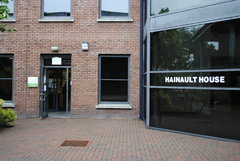 The exterior of Tallaght FLAC, based in Tallaght Citizens Information centreFLAC is a human rights organisation that promotes equal access to justice for all. Members of the public can access basic, confidential legal advice across all areas of law in a network of clinics around Ireland. 
These are usually located in the local Citizens Information Centres, and clinics outside Dublin and Cork are co-ordinated directly by the local CIC staff.
Some clinics are drop-in, where you will be seen on a first-come, first-served basis. Other clinics are by appointment only, and you will have to call in advance to book a place. Please check the listing for your clinic online - it will give you all the details about your local clinics. Below are some useful tips and information on what to expect from your visit:
You will receive basic legal advice from a lawyer - either a solicitor or barrister - who is volunteering his or her time. You can ask a question on any area of law. 
Please bring along any documentation or correspondence which might help the advisor to assist you. Your volunteer advisor will help you to establish whether there is a legal solution to your problem, explain what options are open to you and direct you to where you may obtain further assistance where appropriate. 
You should note that if you have already consulted a solicitor about the same matter, the volunteer advisor is not in a position to offer a second opinion and therefore cannot offer guidance on that issue.
Volunteer advisors cannot provide legal representation, which means they cannot take a case for you or go to court on your behalf. They also cannot refer you to their own practice or to any specific lawyer or law firm in private practice, so you should contact the Law Society for a list of solicitors in your area or for a particular area of law.
However, if you have a low income you may be eligible for legal assistance from the state on a civil matter. The responsible body here is the Legal Aid Board. Your advisor can help to establish this and you may then go to your local Board Law Centre to apply for civil legal aid. You will then have to undergo a means and merits test - read more about this system in FLAC's guide.
For criminal matters, there is a separate state assistance scheme, operated through the courts.
If you have any feedback on your visit to a legal advice clinic, we would be very glad to hear from you. Please call us at 01-887 3600  and ask to speak to our Volunteer Manager.