Volunteering with PILA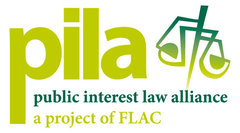 PILA makes it easy for lawyers to use their specialist skills pro bono (for free) and help the community. PILA runs a professional referral scheme that matches lawyers' skills to specific legal assistance requests from non-governmental organisations, law centres and community organisations.
Lawyers donate their legal expertise to organisations by way of:
Legal Advice
Law Reform Working Groups
Legal Education Sessions
Litigation
For further information check out PILA.