Join a student FLAC
FLAC student societies
There are currently seven student FLAC societies operating in universities around Ireland. These are: UCC FLAC, Trinity FLAC, NUIG FLAC, GCD FLAC, DCU FLAC, UCD FLAC and Maynooth University FLAC. Student FLAC societies are run by students with the support of a qualified solicitor or barrister. 
The main purpose of student FLAC societies is to operate information clinics where the student population can come and receive once-off legal information from qualified practitioners who supervise law students. For students who want to get involved in using their growing legal skills to help others, it's a great way to become more socially active and aware.

UCC logoUCC FLAC
UCC FLAC has been in existence for a number of years. The main areas of law on which the society provides information are Landlord/Tenant Law, Public Order Offences, Consumer Law and Employment Law. UCC FLAC hold a walk-in clinic every second Wednesday between 6-7 pm in the third floor of the student centre. UCC FLAC also hold an appointment-only clinic every Wednesday at 6 pm. UCC FLAC has recently started to open up the legal clinics to members of the public. As well as operating the advice centres, UCC FLAC is involved in organising and arranging information and training seminars on various legal topics. For more information or an appointment please contact UCC FLAC by e-mail.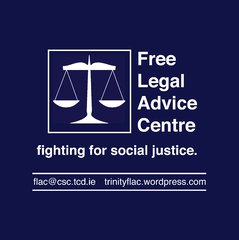 Trinity College Dublin FLAC
Trinity FLAC runs clinics throughout the year at which students can avail of free legal advice from a qualified solicitor. These are held every Tuesday at 7pm in the Law School, House 39, on the Trinity College campus. The most prevalent areas of law on which the students seek advice are Employment Law and Landlord & Tenant Law, but our solicitors are equipped to deal with any legal query you may have. The society organises weekly events on different areas of social justice and human rights, and runs a number of legal research projects and moot court competitions throughout the year. It also gets involved with campaigns run by FLAC's Head Office. For more information contact TCD FLAC by e-mail. 

NUI Galway FLAC
NUI Galway FLAC Society holds clinics for students with legal queries every Tuesday in Áras na Mac Léinn from 6pm to 7.30pm. You can get in contact with the NUIG FLAC society by e-mail. 
There is also a Disability Legal Information Clinic, currently the only one of its kind in Ireland. It is a partnership between the University's student-run FLAC and the college's Centre for Disability Law and Policy. It is a free, confidential, accessible, drop-in legal information service on issues related to disability. Clinics are staffed by trained student volunteers supervised by a legal practitioner and a staff member of the Centre for Disability Law and Policy. Clinics are held on the first Wednesday of each month from 6pm to 7.30pm in the Centre for Disability Law and Policy Centre. Clients with                             particular accessibility requirements (such as a sign language interpreter) should contact the DLI clinic by e-mail.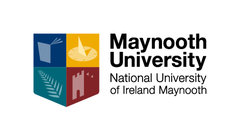 Maynooth University FLAC
The official launch of the FLAC society at Maynooth University took place on 24 February 2012. FLAC clinics are held at 7pm every second Tuesday at the Iontas Building on North Campus. Maynooth University's FLAC clinics provide advice for college students and staff as well as members of the public. The main areas of law on which the Maynooth University FLAC team currently offer advice are Landlord & Tenant Law, Employment Law and Family Law. For more information, contact Maynooth University FLAC by e-mail.

Logo of DCUDCU FLAC
Dublin City University FLAC is currently in its third year of operation. As a society, it holds workshops for student members in order to give them the adequate legal information in preparation for holding FLAC clinics. These are then followed by a series of practice clinics to enable members to practice or sharpen the skills developed from the workshops. DCU FLAC runs an advice clinic every second Tuesday at 6pm in the Student Union building. For more information, please contact DCU FLAC by e-mail.
GCD logoGriffith College FLAC
GCD FLAC are currently in their second year of operation. The society runs a 2-hour advice clinic every two weeks and they operate on an appointment basis. To book an appointment or to find out more, contact GCD FLAC by e-mail. 

UCD logoUCD Student Legal Service
The UCD Student Legal Service is a student-run service providing UCD students with legal information. Information clinics, where individual queries are dealt with person, are held every Tuesday at 1pm and Thursday at 2pm in the Student Centre in Room 3. For more information, contact UCD SLS.