Time to legislate for transgender recognition in Ireland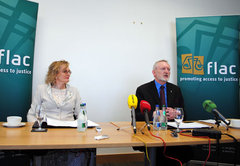 Lydia Foy and Michael Farrell (FLAC) at the press conference to announce the government's dropping of its appeal in Lydia's case for transgender recognition, 21 June 2010
Ireland is now the only country in Europe where transgender people are not recognised in law. Following a long legal battle with the state, in 2007 FLAC client Lydia Foy won a groundbreaking victory for transgender rights in Ireland. Her case was also the first to feature a declaration of incompatibility with the European Convention on Human Rights.
Although it was appealed by the government, in 2010 this was dropped. Following a general election in early 2011 which saw transgender recognition finally written into the Programme for Government, it seemed as if a law was finally coming. A report in July 2011 seemed to indicate that work was almost complete on legislation.
However, October 2012 marks the fifth anniversary of that historic victory for Lydia Foy and the transgender comunity in Ireland. There is still no sign of the promised law.
Campaign Resources
Read a briefing note on the Foy case and on transgender issues in Ireland (October 2012).