First Free Legal Advice Leaflet Translated to Irish
14 November 2016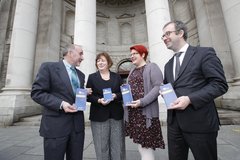 Nationwide Services in Irish Launched
Conradh na Gaeilge & FLAC launch free legal advice services through Irish in Galway, Dublin, Donegal, Cork & Belfast
 Conradh na Gaeilge has translated one of FLAC's most popular free legal information leaflets, Wills & Intestacy, into Irish. The leaflet Uachtanna agus Díthiomnacht is available free of charge from Irish-language free legal advice clinics and online, and is the first in a series of FLAC leaflets that Conradh na Gaeilge hopes to provide in Irish.
 An tSeirbhís Saor-Chomhairle Dlí Náisiúnta, an Irish-language free legal advice service, was also launched at the unveiling of the leaflet at the Four Courts in Dublin today (Monday, 14 November 2016). It is co-ordinated nationwide by Conradh na Gaeilge in association with its legal branch in the south, Craobh na gCeithre Cúirteanna, and FLAC (Free Legal Advice Centres).
 Professional lawyers volunteer with FLAC in evening advice clinics across the country to provide basic, free legal information and advice to members of the public. Conradh na Gaeilge operates a monthly legal advice clinic in Irish in Belfast, and free legal advice services are now available through Irish by appointment in FLAC centres in Cork, Donegal, Dublin, and Galway every month as well.
Cóilín Ó Cearbhaill, President of Conradh na Gaeilge says:
 "Conradh na Gaeilge is committed to facilitating access to justice through Irish with An tSeirbhís Saor-Chomhairle Dlí.  Irish speakers across Ireland can exercise their right to access justice through the Irish language, starting with a free legal consultation through Irish with a FLAC volunteer lawyer."
Eilis Barry, CEO of Free Legal Advice Centres Ltd (FLAC) says:
 "As an independent human rights organisation committed to increasing access to justice for all in Ireland, FLAC is delighted to be part of an initiative that is enhancing people's ability to engage with the law. We see this leaflet and Irish-language service, An tSeirbhís Saor-Chomhairle Dlí Náisiúnta, as an important step from all involved towards improving access to justice and realising rights."
 Zsé Varga, FLAC Volunteer & Centres Manager, says:
 "FLAC appreciates and acknowledges the commitment of the volunteer lawyers who are providing this important service to the Irish-speaking community across Ireland."
 END
__________________