UN to be told state failing its duties on 'everyday' rights in Ireland
19 November 2014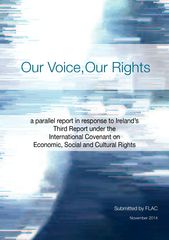 An independent report detailing gaps in how the state is meeting its obligations under an international treaty on economic, social and cultural rights was launched this morning, making recommendations for government action that range from increasing the minimum wage and reviewing zero-hour contracts to ensuring families are housed and rent is affordable to tackling the two-tier healthcare system, providing affordable and clean water and ensuring broadband in rural areas.
'Our Voice, Our Rights', which was drawn up from research coordinated by FLAC (Free Legal Advice Centres), is aimed at influencing the UN Committee on Economic, Social and Cultural Rights, which meets in early December to draw up a List of Issues on which it will examine the Irish Government next year. At the launch Focus Ireland, the Irish Heart Foundation, Community Law & Mediation, the Irish National Organisation of the Unemployed and cultural rights group Blue Drum, which all contributed to the report, spoke to highlight particular issues.
"This research is intended to provide a broader, more inclusive source of information from a wide variety of diverse organisations throughout Ireland for the Committee," explained FLAC Director General Noeline Blackwell. "So while FLAC is presenting the report, it actually reflects the evidence from a range of organisations and individuals who are working at ground level nationally and locally to promote and defend human rights. This makes the report a strong, authentic reflection to government and the State of the lived experience of how human rights are implemented in Ireland."
Issues arising in the report cover such areas as education, health, housing, workers' rights, social security, employment, protection of families and cultural life. "As we did our research, we found that the recession of the last six years had done great damage to the capacity of many people to live in dignity across the broad array of rights that affect the lives of people. We did not see the evidence that the State had taken the protection of those human rights into account in the various austerity measures imposed.  This remains a challenge for the State as it has a binding legal commitment to protect and promote fundamental human rights even in recessionary times. 
With the other organisations involved, we are hoping that this report will provide the basis over the next number of months  for a really thorough examination  and debate with Government about how real effective rights can lead to a better Ireland ," commented Ms Blackwell.
#OurVoiceOurRights
/ENDS
______________
Editors' notes:
FLAC (Free Legal Advice Centres) is a human rights organisation which exists to promote equal access to justice for all. As an NGO, FLAC relies on a combination of statutory funding, contributions from the legal professions and donations from individuals and grant-making foundations to support its work.
We offer basic legal information through our telephone information line and free legal advice through a network of 80 volunteer evening advice centres. FLAC also campaigns on a range of issues including personal debt, fairness in social welfare law, public interest law and civil legal aid.
'Our Voice, Our Rights' is launched on Wednesday 19 November at 11am in the Oak Room of the Mansion House, Kildare Street, Dublin 2.
The full report will be available to download from the FLAC website at www.flac.ie from lunchtime on Wednesday.
FLAC's Noeline Blackwell will give an overview of the report and, chaired by Prof Gerry Whyte of TCD Law School,  representatives of organisations that contributed to the report will discuss some of the live issues around the State's failure to deliver on key rights under ICESCR:
There will be contributions from the floor from other organisations.
A summary briefing is attached as well as a selection of case studies from organisations contributing to the report. Both will also be available online.
The Irish State signed and ratified the International Covenant on Economic, Social and Cultural Rights (ICESCR) in 1989 and was last examined by the Committee in 2002. The State is now due to undergo its third examination by the Committee on Economic, Social and Cultural Rights in June 2015.
In early December 2014, the UN Committee on Social, Economic and Cultural Rights will decide the 'List of Issues' on which it will question the Irish Government on its performance under ICESCR. With this important event in mind that FLAC coordinated a 'Shadow' or 'Parallel' Report on how the State is meeting its obligations under the Covenant, based on evidence from a wide variety of diverse organisations throughout Ireland which promote rights covered under ICESCR.
In compiling this report, FLAC consulted with more than 50 civil society organisations and interested individuals around Ireland – a full list is given in the report and summary briefing. The report represents a range of issues which FLAC believes have not been adequately covered by the Irish State Report. It covers the period from 2002 to mid-September 2014 and examines issues arising under each of the different Covenant Articles where relevant.
FLAC is grateful to the advisory group of experts who provided advice and guidance throughout the compilation process: Professor Gerry Whyte, Trinity College Dublin (chair); Mike Allen, Focus Ireland; Michael Farrell, FLAC; Dr Eilionóir Flynn, Centre for Disability Law & Policy, NUI Galway; Dr Aoife Nolan, University of Nottingham; Brian Ruane, Centre for Human Rights and Citizenship Education, St Patrick's College Drumcondra; Dr Liam Thornton, University College Dublin. Our sincere thanks go also to the Children's Rights Alliance which was commissioned to conduct the report research, led by Project Manager Saoirse Brady.