New issue of FLAC News out now
30 September 2008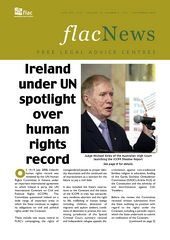 The latest issue of FLAC News (Vol 18, No 3) is now available, to download as a PDF or in print format by contacting FLAC.
This copy focuses on the July launch of the joint NGO Shadow Report to Ireland's country report under the International Covenant on Civil and Political Rights (ICCPR). It also features articles on issues such as the proposed merger of equality and rights agencies and the habitual residence condition.
You can join the FLAC mailing list or subscribe by contacting us.