Time to repair austerity damage to access to justice
25 February 2016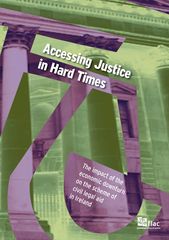 Legal rights group FLAC is this morning launching research that charts the impact of the recent recession on how people in Ireland accessed justice through the civil legal aid system. It recommends a suite of measures such as expanding the areas of law covered, dropping fees for victims of domestic violence and reviewing the legal aid scheme to identify whether it is fit for purpose.
The new report, entitled 'Accessing Justice in Hard Times' is based on data from FLAC's own legal information and advice services to the public as well as on information published by the state Legal Aid Board. It shows that people in Ireland did not have adequate, timely and effective access to law and the legal system during the economic downturn. Speaking ahead of the event, FLAC Director General Noeline Blackwell said: "This lack of an effective legal aid system during the economic downturn caused hardship and misery for a lot of people in this country."
The report is being launched at a seminar where over 25 organisations will learn about how the Irish civil legal aid system works and how it can be used to build equality. Commented Ms Blackwell: "Our present system is unable to deliver the basic right of access to justice to the level expected in a state governed by the rule of law."
She continued: "Many people who could qualify for legal help are not aware of the service, but those who try to access the state system face serious waiting lists or will find their legal query is not covered by the scheme – even for basic issues such as employment or housing matters.
"The recent recession saw many people needing legal help across a range of complex issues, with complex interlinkages that needed expert assistance. Our report shows an over-stretched and under-funded Legal Aid Board was not capable of providing the necessary support in a time of crisis. That must be repaired now."
/ENDS
Editors' notes:
1. Accessing Justice in Hard Times is available to download on the FLAC website, along with an Executive Summary and a 'Key Facts' document drawn from the report - see below for list of these facts.
3. FLAC (Free Legal Advice Centres) is a human rights organisation which exists to promote equal access to justice for all. As an NGO, FLAC relies on a combination of statutory funding, contributions from the legal professions and donations from individuals and grant-making foundations to support its work.
4. FLAC offers basic legal information through its telephone information line (1890 350 250) and free legal advice through its network of 80 volunteer evening advice centres – more at www.flac.ie/help/. It also campaigns on a range of issues including consumer credit, personal debt, fairness in social welfare law, public interest law and civil legal aid. FLAC has issued numerous analyses and policy statements calling for a fairer mortgage arrears resolution process.
5. The report will be launched at the Carmelite Centre on Aungier Street, Dublin 2 at 11.30am on Thursday 25 February 2016.
6. There will be photographs for free with repro available after the event by Collins Photography.
7. FLAC is thankful for the financial support it received from the International Bar Association Foundation for this report.
8. Noeline Blackwell will step down as Director General of FLAC on Friday 26 February.
9. Key Facts: Accessing Justice in Hard Times: FLAC is committed to the provision of a comprehensive civil legal aid scheme in Ireland which ensures equal access to justice for all. While the scheme has never been comprehensive, the goal of a more efficient, accessible and sustainable system slipped further and further out of reach during the recession. Here we present 15 key facts drawn fromAccessing Justice in Hard Times:
1. In June 2013, the number of principal dwelling houses with mortgage accounts in arrears peaked at 142,892. Although mortgage arrears generally involve households with reduced income requiring increased legal help, in 2013 the Legal Aid Board provided legal advice and representation in just 479 debt-related cases.
2. In 2007, some 3173 complaints were submitted to theEmployment Appeals Tribunal. In 2009, this rose to 9458. Legal aid is not available in cases before the Tribunal/Workplace Relations Commission.
3. In 2007, some 14,070 applications were made to theSocial Welfare Appeals Office. By 2012, this had increased to 35,484. The Appeals Office is excluded from the remit of the legal aid scheme.
4. In June 2015, the UN Committee on Economic, Social and Cultural Rights recommended that the State ensure the provision of free legal aid services in a wide range of areas, including by expanding the remit of the civil legal aid scheme.
5. The Civil Legal Aid Regulations 2013 cut the disposable capital threshold allowance from €320,000 to €100,000.
6. In 2013, the same regulations meant the Legal Aid Board increased mandatory contributions for legal advice from €10 to €30 and for legal aid from €50 to €130.
7. In its 2015 Concluding Observations, the UN Committee on Economic, Social and Cultural Rights voiced concerns about the insufficient support services for victims ofdomestic violence, and recommended that such services, including legal aid, be strengthened.
8. Since 2013, parents in child care proceedings are no longer required to pay financial contributions.
9. The number of legal aid certificates granted to private practitioners for representation in divorce and separation matters in the Circuit Court dropped from 329 in 2007 to zero in 2013.
10. The number of legal aid certificates granted to private practitioners dealing with District Court cases increased from 1,977 in 2007 to over 5,000 in 2012.
11. In 2007, there were 10,164 applications for legal services in the Board's Law Centres, excluding asylum related applications. By 2011, this figure had increased by 84% to 18,657 applications.
12. A triage system was introduced in 2012, whereby applicants are supposed to be seen by a solicitor for a short consultation within the first month of applying for legal services. By the end of 2012, only three of the eleven Law Centres operating the triage system had waiting lists of one month or less.
13. In 2007, the maximum waiting time in a Law Centre for legal services was 6 months. By 2012 this had surged to 15 months.
14. Between 2007 and 2013, the number of people waiting on a first consultation with a solicitor in a Law Centre increased from 1163 to 5067, a percentage increase of over 335%.
15. The number of child care cases in which civil legal aid was granted progressively increased from 707 in 2007 to 1,178 in 2012.