Information & Referral Line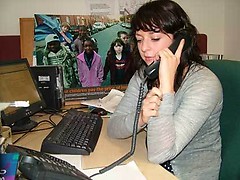 FLAC provides an information and referral line that individuals may call to receive guidance on their legal needs. The office takes calls Monday to Thursday, 9am to 5:30pm and Friday, 9am to 5pm. The number is:
1890 350 250
While legal advice is not given over the phone, legal information and referrals to an appropriate centre or agency is provided. Specialised advisors who deal with credit/debt law and social welfare law may also be available.
Otherwise, the caller will be referred to one of FLAC's legal advice centres where he/she can discuss the matter with a volunteer solicitor or barrister, or to another organisation/agency which will be able to help him/her further.
Where appropriate, FLAC also refers callers to other independent and state agencies for more specialised information on issues such as social welfare law, family law and landlord and tenant matters. You will find a list of such bodies on our useful links page.